What is a PBX System for small business?
A PBX (private branch exchange) system for small business is a phone system that connects your office phones to the public switch telephone network (PSTN). The small business PBX manages incoming and outgoing calls, both from internal extensions and external numbers. A PBX impacts almost every aspect of your business, including your budget, employee productivity, and customer care. Without a PBX system, your business is left with no ability to direct calls to specific departments or employees. An outside call will ring every phone, and there are no extensions enabling one-on-one calling within the office.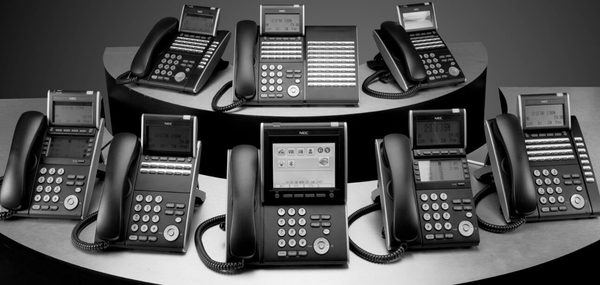 Benefits of Having VOIP Phone Services for Your Miami Business
Traditional phone lines typically charge for each minute of call time, where with VoIP your only costs are your monthly charges from your ISP. In fact, many providers offer inexpensive or even free calling to, for example, the contiguous United States. One of the additional cost benefits of VoIP is the limited costs associated with hardware and software required to operate the system. CompuSOURCE ensures their clients always have the most up-to-date software and provide current hardware. This eliminates the need for businesses to purchase their own phones and infrastructure, which can result in additional cost savings.
Without the need for dedicated phone lines, conferencing is simplified considerably. Traditional phone systems allow for conferencing, but you'll end up paying for an additional service and hosting multiple callers each time you need to conference.
More employers are discovering the benefits of having their staff work from home in exchange for smaller office spaces, decreased utilities costs, etc. VoIP technology has become extremely portable, allowing users to connect from home offices and abroad. What's more is that your employee's number follows them to their new home office when they make the change.
One of the little known benefits of VoIP is that it makes for a more efficient use of your existing bandwidth. As roughly half of voice conversations are made up of silence, VoIP continues to fill those information gaps with other data from other bandwidth consumers to make better use of your resources. What's more is that VoIP allows for compression and elimination of speech redundancies to further improve efficiencies.
VoIP services typically include features like caller ID, virtual numbers, contact lists, voicemail etc., but these features can all be used in more sophisticated ways to boost operational efficiency. For example, voicemails and messages can be forwarded to multiple colleagues with a single click, and voicemail-to-text transcriptions can be sent directly to your inbox so they can be reviewed while on the go.
One of the benefits of VoIP that your IT team will enjoy is that its underlying network need not be a part of a specific technology layout. That means your existing ethernet, SONET, ATM, or even your WiFi can be used as the foundation for your network. The complexity of traditional phone networks is virtually eliminated. This allows for a more standardized system to be implemented that supports a variety of communication types while being more tolerant of faults and requiring less management of equipment.
One of the additional benefits of VoIP is that most providers include Fax over IP as a part of their service. Fax over IP all but eliminates the high costs of long-distance facsimile, as well as improves compatibility between machines and reliability of service. Once again, fax information is transmitted via data packets that dramatically improve efficiency. In fact, VoIP doesn't even require a fax machine to send or receive a fax.
With your personnel working from various points within the office, their home, or around the world, keeping them within reach is critical. One of the more interesting benefits of VoIP is that you can have a single call ring to your desk phone for the first few rings, then to your mobile phone, tablet, or laptop if the call goes unanswered. This way urgent calls are answered more often and less time is spent checking voicemail or corresponding over other platforms.
One of the most common objections to VoIP is that if a business finds themselves without internet for any reason, their phone system would be down as well. One of the benefits of VoIP flexibility is that in the event of an office phone going because of internet connectivity, calls can always be forwarded to mobile phones and other devices. That also means weather issues and power outages no longer present the risk they once did.
One of our favorite benefits of VoIP is that IP phones are incredibly easy to install—even for those who are less technically savvy. There is no need to have expert technicians running phone wiring throughout your office. Instead, IP phones are virtually plug-and-play. Hosted VoIP software also makes it incredibly simple to add new users, and a web portal makes moving, adding, or changing your systems configuration much easier. All of this simplicity means maintenance is straightforward and rarely requires professional support.
Highly efficient business systems scale with the needs of the business, but traditional phones systems are far more difficult to scale. Scalability is one of the benefits of VoIP that supports your efficiency and productivity while remaining highly cost effective at the same time. VoIP systems allow you to add a line as you hire a new employee and eliminate lines in the case of downsizing. You're only ever paying for what you need.
Your business likely utilizes various other systems and technologies to enhance your operational efficiencies. VoIP easily integrates with a wide variety of existing business systems. That means you'll realize all of the benefits of VoIP without requiring modification of your existing applications or IT infrastructure. For example, outbound calls can be placed via Outlook or other email systems and customer records can even be viewed during the inbound call with the same customer.